Hamburg Sustainability Session No. 4 on 2 Sept 2021: Sustainable Finance
02/09/2021: 16:00

-

17:30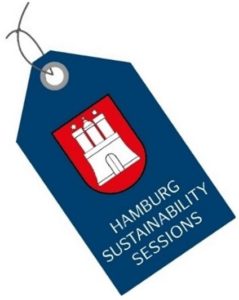 This Hamburg Sustainability Session, the second one in 2021, on "Sustainable Finance" – held in English language – took place on 2 September 2021. If you missed it, or just want to read up once more on the brilliant thoughts presented, you can download the slides shown by our presenters below (click on keynote headline).
This is what we dealt with in our live event: Can we hit the brakes before climate change reaches the Earth's tipping point? The financial sector and alternative financing models play a crucial role in putting the Earth on a more sustainable path. Sustainable finance instruments directly invest in activities with a positive environmental and social impact such as renewables and nature conservation projects. For more than 15 years, sustainable financial instruments have been among the asset classes with the highest growth rates, yet top-down financial products such as green, social and sustainability bonds still represent less than 1% of bond capital markets. At the same time, UNEP's latest State of Finance for Nature report points towards a USD 4.1 trillion financing gap in nature to meet the 2050 global climate change, biodiversity and land degradation targets. Currently, just a fraction of this financing can be witnessed. There is thus a huge need for increased investment in Nature-based solutions, and this is especially valid for private finance.  NGOs, foundations and the private sector have started to design financing mechanisms providing sustainable bottom-up solutions. But how can the transition to a sustainable financial market be accelerated? Which new sustainable financial mechanisms can pave the way into a more sustainable future?
In our 4th Hamburg Sustainability session, we will address these questions and look at different innovative financial instruments with a huge potential to create a more sustainable future.
Programme:
16:00 -16:10 – Introduction
16:10 – 16:30 – Keynote 1: Sustainability Financing – challenges and opportunities for the delivery and financing of sustainability projects

Prof Luise Noring, Copenhagen Business School, Denmark

16:30 – 16:50 – Keynote 2:  Addressing the nature conservation funding gap – introducing IUCN's blended finance solutions

Elmedina Krilasevic, Senior Program Coordinator, NBS Finance, Forest Conservation Programme, International Union for Conservation of Nature (IUCN)
16:50 – 17:10 – Keynote 3: Sustainable finance: Mobilising capital – practical considerations for product and service innovation

Tom Groom, Partner EY Financial Services Strategy and Transactions Business, Ernst & Young GmbH
17:10 – 17:30 – Virtual discussion, exchange and networking
17:30               – End of event